Symptoms of the patient: -
Depends on severity:-
• Grade 1 :-minor pain
• Grade 2:-moderate pain
• Grade 3:- severe pain and total torn meniscus
Other symptoms are: -
• Pain especially when the area is touches
• Swelling
• Difficulty moving your knee or inability to move it in a full ROM
• The feeling that your knee is giving way or unable to support you
• Slipping or popping sensation
0rthopedics surgeon clinically check for tenderness area of pain
perform clinical test: -
MacMurray test: - to look for a meniscal tear. This test involves bending your sknee and then straightening and rotating it. You may hear a slight pop during this test. This can indicate a tear of the meniscus.
Epley's test: - The patients lie on his or her stomach, bending the knee at an even 90-degree angle. Downward force will be applied to the foot by the physician while the foot is rotated to the outside. If pain present itself in the inner section of the knee joint, a medial meniscal tear may be present.
Image in test:-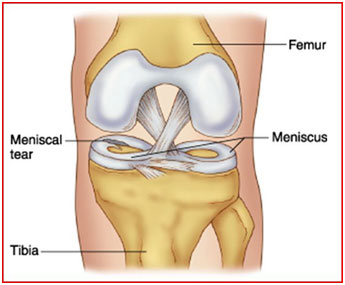 This test won't show meniscus tear. It can be helpful to determine if there are any other cause of your knee pain like OA.
MRI: - meniscus tear may not show up on an MRI because they are closely resembled degenerate or age-related changes.
Ultrasound: - uses sound waves to take images inside the body. This will determine if you have any loose cartilage that may be getting caught in your knee.
Arthroscopy: - If your doctor is unable to determine the cause of your knee pain from these techniques. They may suggest arthroscopy to study your knee.