DIGITAL FOOT SCANNING (BAROPODOMETRIC):-
Thorough Digital Foot Scanning, our doctor clinical and systematically analyses the structure and formation of your foot. And prepare your customized insoles to support and correct your foot and postural damages. Digital Foot Scanning also helps to indicate the capacity of your foot to bear and balance your body wait.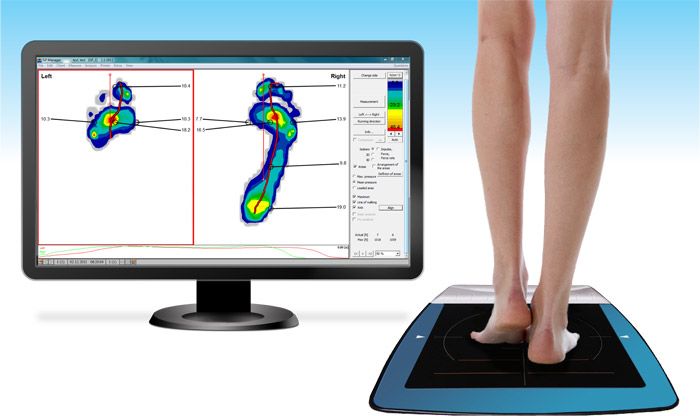 CUSTOMISED FOOT ORTHOTIC:-
Our podiatrist uses customised orthotics to treat foot problems such as plantar fasciitis, bursitis, tendinitis, diabetic foot ulcers, and foot, ankle, and heel pain. Clinical research studies have shown that podiatrist-prescribed foot orthotics decrease foot pain and improve function. Custom orthotics are specially-made devices designed to support and comfort your feet. Prescription orthotics are crafted for you and no one else. They match the contours of your feet precisely and are designed for the way you move. Orthotics are only manufactured only after our podiatrist conduct a complete evaluation of your feet, ankles, and legs, so the orthotic can accommodate your unique foot structure and pathology.
FOOTWEAR PRESCRIPTION:-
Shoes can't be same for all. Our doctor recommends shoes as per your foot type. Shoes/ Footwear have major role in treating foot conditions. Our doctors are expert in footwear prescription. Specialized Foot rehabilitation Our doctor design tailor made specialized foot rehabilitation program to promote healing and prevent recurrences.
CONDITIONS WE TREAT:-
Heel pain/ Plantar fasciitis
Achilles Tendonitis
Bunions
Flatfoot (Fallen Arches)
Calluses/Corns
Hallux Limitus (Big Toe Pain)
Morton's Neuroma
Onychomycosis (Nail Fungus)
Osteoarthritis
Paediatric Foot Care
Plantar warts
Plantar Fasciitis
Rheumatoid Arthritis
Running Injuries
Sprains/Strains
Tarsal Tunnel Syndrome
Tailor Bunion
Tendonitis
Toe deformities